THE 2020 DOMINION POST WELLINGTONIAN OF THE YEAR

- WINNERS & FINALISTS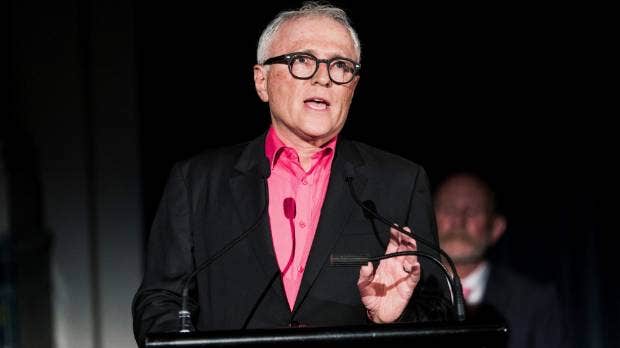 The Dominion Post Wellingtonian of the Year Awards were held at The Embassy Theatre on Wednesday 17th March 2021 and we were pleased to present the 9 Category Winners (below), 4 Showcase Recipients and the overall 2020 Wellingtonian of the Year - Michael Baker.
The Welly Awards, now in their 32nd year, recognise those people in our community across all facets of life making a positive contribution to the Wellington region.
ARTS in association with Wellington City Council
2020 WINNER: VICTOR RODGER
Victor is an award-winning Samoan-Kiwi playwright whose work deals with race, racism and identity including issues facing Pacific peoples and voicing issues for the gay community. His multi-award-winning play, Black Faggot explores what it means to be gay and Samoan in NZ today, was performed in Auckland, Melbourne, Hawaii, UK & New York.
..............................
2020 FINALISTS
CAROLYN HENWOOD is a founding member of Circa Theatre, where a breakaway group of actors created an innovative 'less is more' theatre model
FIONA KIDMAN, author of This Mortal Boy, and is one of our most successful and prolific writers and a staunch advocate for Kiwi writers and literature.
MURRAY LYNCH began his career in dramatic arts in 1973 in Whanganui's Four Seasons Theatre and has since worked at just about every major theatre in NZ.
KAREN O'LEARY is an early childhood teacher and actress, most known for her comedic role as "a bumbling police officer" in Wellington Paranormal.
JO RANDERSON during an award-winning career, co-founded the theatre group Trouble and her own theatre company, Barbarian Productions. She pioneers the field of participation and interactive projects.
BUSINESS
in association with
ANZ
2020 WINNER: MALCOLM GILLIES
Malcolm is driven to bring revenue and jobs to the region. Known for creating and building large scale housing developments over 25 years, his recent successes have been drawing public attention. Revitalising the Dunlop's Factory site into the premier entertainment hub Brewtown and the conversion of the former CIT into one of the region's largest accommodation providers.
..............................
2020 FINALISTS
TERRY CARTER is the GM of NZ Tube Mills, exporting high-quality eco trellis's and beams that have become popular on orchards and vineyards around the globe.
DAVID PERCY is an electrical engineer and CEO of Pertronic Industries, a fire detection system company that has been saving lives for over 35 years.
BROOKE ROBERTS is a co-founder and chief executive of Sharesies, an accessible online investment platform that aims to create the most financially empowered generation.
COLLEEN UPTON has been involved in the plumbing and gasfitting industry since the early 1990s and has been an advocate for female representation in the trades.
COMMUNITY SERVICE
in association with
RAYGUN
2020 WINNER: BIDDY HARFORD
Biddy has dedicated most of her working life to palliative care, starting as an administrator at Te Omanga Hospice in 1988 and then CEO in 2000. She leads a team of people helping those with a terminal or life-limiting illness live with dignity and compassion at the end of life. Biddy has been chairperson of Hospice New Zealand and became a Member of the NZOM in 2019.
..............................
2020 FINALISTS
JONATHAN MOSEN strives to give disabled people "greater control of our own destiny". He is CEO of Workbridge, Aotearoa's largest free employment service for disabled people.
GABRIEL TUPOU is the district commander of the Maori Wardens, those of whom hold special legal powers and work alongside police to reduce harm in the community.
INGE WOOLF was the founding director of the Holocaust Centre of NZ, is still a driving force inspiring and empowering action against antisemitism, discrimination and apathy through education and remembrance. Inge is a holocaust survivor. (Sadly Inge passed away in late February 2021 a few weeks before The Wellys)
KIM WORKMAN is a justice reform advocate, researcher and writer, who was knighted for his services to prisoner welfare and the justice systems.
EDUCATION
in association with
Sharesies
2020 WINNER: SALLY BARRETT
Sally has devoted over 50 years to education - until recently as Head of Wadestown School - and has subsequently been recognised with a QSM for services to children with special needs. Sally is a champion of te reo and tikanga Māori, literacy, performing arts and ensuring students are happy and healthy - so that they grow and thrive.
..............................
2020 FINALISTS
SUE CHETWIN was the CEO of Consumer NZ for over 13 years, where she campaigned for many significant consumer law reforms.
MOHAMMAD HILAL established the Arabic School of NZ, which provides free tuition and a venue for children to make friends and maintain a connection to their culture and language.
BERNARD HICKEY is a leading financial journalist and economist. He is the managing editor of Newsroom Pro and a regular commentator on financial, economic and investment issues.
BEV LAWTON is the founding director of the Centre for Women's Health Research at VUW. Her research on children's and women's health has influenced change in policy in NZ and beyond.
ENVIRONMENT
in association with
Upper Hutt City Council
2020 WINNER: DAVE LOWE
Dave has dedicated his life to sounding the alarm on climate change. In the 1970s he was the first person to show that atmospheric CO2 is increasing around NZ. Dave is a lead author of a 2007 Nobel Peace Prize-winning climate change report, and his autobiography "The Alarmist: Fifty Years Measuring Climate Change" will be launched at Unity Books in May.
..............................
2020 FINALISTS
JIM KEBBELL & MARION WOOD are staunch advocates for organic and regenerative agriculture and thus founded Commonsense Organics, a leading example of sustainable small business in Aotearoa.
MARNIE PRICKETT is the spokesperson for Choose Clean Water, which aims to strengthen Aotearoa's freshwater policy for the good of the environment, people, and wildlife.
BRONWEN SHEPHERD is the community manager, lead adviser and researcher for the critically endangered snail - potamopyrgus oppidanus - at Te Ahumairangi Ecological Restoration Group.
PUBLIC SERVICE in association with Meredith Connell
2020 WINNER: ASHLEY BLOOMFIELD
Ashley is Director -General of Health and CEO of the Ministry of Health, praised for his calm delivery at the COVID-19 media conferences. For his "outstanding contribution" to the wellbeing of the nation, he was awarded the 2020 Chair's Award by the NZ Medical Association. Dr Bloomfield says it's very much about the team and he's incredibly proud of everyone who helped.
..............................
2020 FINALISTS
JILL DAY is a councillor, advocating for children, young people, Maori and Wellington's most vulnerable. She has led the adoption of a policy to make Wellington a te reo Maori city by 2040.
CHRIS HIPKINS juggles numerous duties in government. He is a member of parliament for Remutaka, Covid-19 response minister, minister of education, minister for the public service, and leader of the house.
BRENDA PILOTT has advocated at the national level for pay equity for women and social services sector workers, recognition of domestic violence, and better resourcing for public services.
SCIENCE & TECHNOLOGY
in association with
Hutt City Council
2020 WINNER: MICHAEL BAKER
Michael is a public health physician and professor of Public Health at the University of Otago, Wellington. He was the leading science advocate for a 'go hard and early' approach for eliminating Covid-19, helped inform the decision for a national lockdown, and has subsequently been made a Member of the New Zealand Order of Merit.
..............................
2020 FINALISTS
ROSS BELL recently became Manager of Public Health Capability for the Ministry of Health. He has dedicated his career to reducing drug harm through a compassionate, evidence-based approach.
JOEP DE LIGT is a scientist at ESR Porirua, aiding national and global efforts to understand Covid-19 by performing genome sequencing.
ANTONY DIXON is CEO at PaperKite, the digital agency behind contact tracing app Rippl, which has helped pinpoint sources of the virus and reduce the spread.
SPORT
in association with
Porirua City Council
2020 WINNER: AMELIARANNE EKENASIO
Ameliaranne is a professional netballer, who plays as goal attack for the Silver Ferns and was a key part of the squad that won the INF Netball World Cup in UK in 2019. She was also a star performer in the Central Pulse, became the Silver Ferns Captain in 2020 and recntly led them to victory in the Constellation Cup against Australia.
..............................
2020 FINALISTS
NELSON ASOFA-SOLOMONA plays as a prop for the Kiwis and Melbourne Storm in the NRL, where he has won 2 Grand Finals and four Minor Premierships.
LIBERATO CACACE is a fullback for Sint-Truiden in the Belgian First Division and the All Whites. He won A-League Young Player of the Year 2018-19 with the Wellington Phoenix.
DEVON CONWAY is a left-hand batsman for the Black Caps and Wellington Firebirds. He moved from South Africa to Wellington at 25 to pursue a career in Aotearoa.
SOPHIE DEVINE is an all-rounder for the Wellington Blaze, Perth Scorchers and White Ferns (since 17). She has scored 2570 runs and taken 72 wickets in 105 ODI's.
YOUTH (under 25) in association with Te Herenga Waka—Victoria University of Wellington
2020 WINNER: BRAD OLSEN
Brad is a senior economist and director at Infometrics. He is one of NZ's youngest, prominent, economic commentators, regularly in the media - especially due to the economic impacts of COVID-19. He is the youngest serving Justice of the Peace, providing us with a more accessible on-the-go service, and volunteers with Take 10. In 2016, Brad was announced as NZ's Queen's Young Leader, meeting the Queen three times.
..............................
2020 FINALISTS
MADDY GORDON is a young professional netballer who plays for Central Pulse and has been selected for the Silver Ferns squad. Shifting to wing attack, she is a regular starter for the Pulse.
KAHU KUTIA is a writer, activist and multimedia storyteller, producing stories about te ao Maori, LGBTQ, environmental, restorative justice and youth issues. She also hosts RNZ's He Kakano Ahau.
TAMATHA PAUL is a WCC councillor and activist. She was the first wahine Maori President of the VUW Students Association, focusing on rental, city safety and mental health issues.
KII SMALL is a deputy registrar at the Ministry of Justice and co-founder/director of Mapmo, providing a platform that removes the barriers around the mental health conversation.
........................................................................................
2020 PHILANTHROPY SHOWCASE
in association with
Nikau Foundation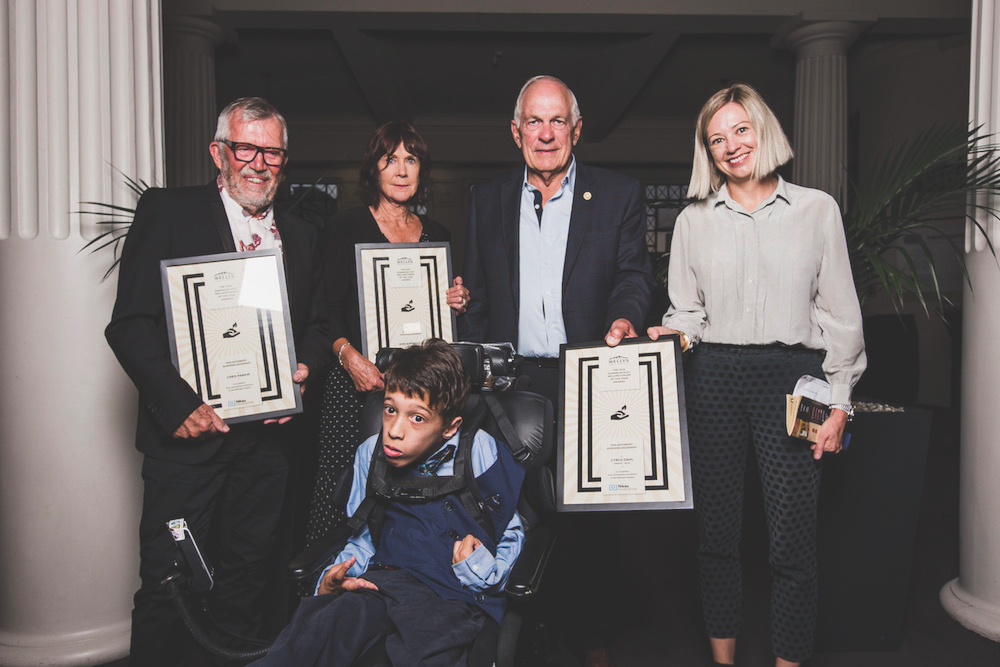 RECOGN
ISING IMPORTANT PHILANTHROPY AND COMMUNITY FUNDRAISING IN THE WELLINGTON REGION.
2020 Nikau Citation Recipients: Chris Parkin, Margaret & Mike Olsen, with Nikau Executive Director Alice Montague, and in front 2020 Recipient Cyrus Dahl.
....................................................................................................................................................